Summer Party!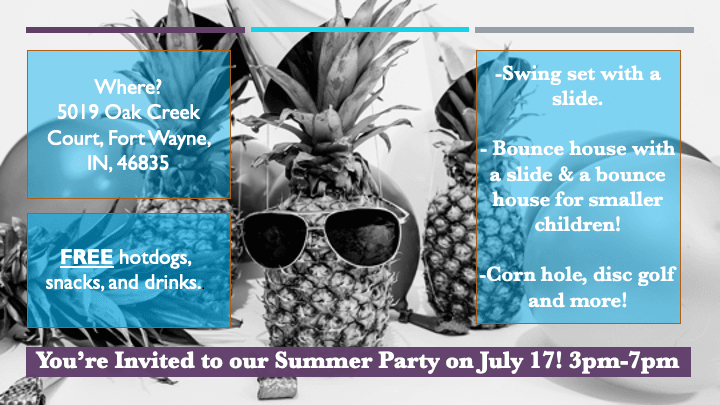 Come and party with us! We have a little something for everyone, especially for families!
Sunday Gatherings
Our home will be open at 9:30am for families to arrive and to check their children into the children's ministry area (our next-door neighbors Jim and Kristi's home). We will have coffee, donuts, and other dietary conscious snacks available that morning. We would also like to ask each family who is coming to bring a side dish for a pitch in lunch following the service time. Here is what the morning will look like:
9:30am Arrival, check in children, mingle, coffee/tea, and snacks.
10-10:30am Songs and Prayer
10:30-11am Sermon
11-11:15am Closing song and opportunity to respond.
11:15-11:30am Gather children and prepare for a meal together.
11:30-12:30 Lunch and hangout (We encourage sticking around for lunch but completely understand if you cannot)
To clarify, the service portion of our gathering will be from 9:30-11:15am. I just wanted to share with you a glimpse of what you could expect from the morning.
When your family arrives between 9:30am-10am, a volunteer will be able to direct you to our children's ministry check in. We will take your contact information so that we can reach out to you with a text message if your child requires additional care from you. Here is what a typical children's ministry experience is like.
9-9:30am Playing inside until the video lesson begins.
9:30-10am Interactive video lesson with an adult volunteer creating a fun and meaningful learning experience.
10-10:30am Activity time. There will be some sort of hands-on activity that is relative to many age groups.
10:45-11:15am Play time either inside or out.
We're excited to mingle and get to know everyone a little better over lunch afterwards. At The Vineyard Fort Wayne our heart is that all of us would come to experience the great love that our heavenly Father has for us and that our lives would experience the full life of transformation that He intends for us as a result. Thank you for your encouragement, prayer, and support in this journey. We look forward to seeing each of you and your families at our Sunday gatherings!
Pastor Zach Gay
574-538-7563
www.vineyardfw.org